Our Community
Ok, so what is this Make Space thing?
More than just another art group! We're a peer focused hub of support and creativity.
Sounds interesting, how does it work?
Encourage collaboration by celebrating our differences while finding comfort in our common ground - art. Sessions are offered both in person and digitally along with regular resource access online.
Art and well-being isn't exactly a new idea - how is Make Space different?
We promote lived experience and open conversation without judgement, a place to connect with others, feel supported and even find new friends. The community is relaxed and open to all skill levels with a wide range of creative practices to discover and share.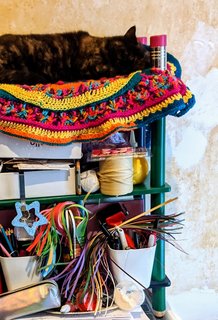 "The Make Space idea, like many things, was born out of necessity - I found it difficult to set aside time for myself at home as I lacked motivation.
Just as some people need a gym to focus their physical well-being, I realised that having a dedicated art space would reduce negative feelings around doing something purely for me.
The part I hadn't considered was just how much the routine would impact my mental health! The sessions became a focal point for my week, something to look forward to and even get excited for"
Jo - Make Space Founder